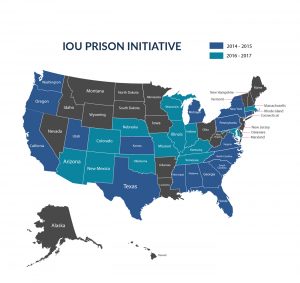 The International Open University's (IOU) Distance Learning Prison Initiative, in the United States, has witnessed continued expansion of the program and it reaches more than half of the nation (29 states and Puerto Rico). After starting with 500 inmates in 2014, the program has increased its' enrollment to more than 3,000 inmates. It is now operating in more than 150 federal and state facilities nation-wide.  More than 400 graduate inmates have achieved Certificates of Completion have been earned and distributed to the inmates or their family members.
Each month, the program welcomes between 50 – 100 new inmate enrollees into the initiative, Alhamdulillah.
While IOU's online courses are ideal for prison inmates, they are not allowed internet access. Therefore, there is a need for these courses to be taught within the prison itself. This requires the study materials to be printed, courses to be available using DVD or other media that does not require internet access as well as an instructor to help explain lessons and the concepts taught.
IOU's costs to run the initiative includes:
1. Textbooks
2. Exam papers, grading and follow-up (retakes where necessary)
3. CDs and DVDs (made available to the Institutional Chaplains)
4. Correspondence (mail, phone calls)
5. Certificates
6. Institutional visits when possible