The International Open University (IOU) endeavours to strengthen the capabilities of African youth through the provision of quality higher education. Earning a university degree, helps disadvantaged students create a beneficial livelihood for themselves and in turn others, as well as empowering them adequately to work towards the eradication of poverty in their communities.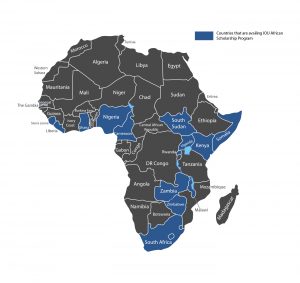 In 2017, IOU launched the African scholarship project with the aim of educating one million African students by 2020. Perhaps it was over-ambitious for us to think that we could reach this honorable goal in such a short period of time given the enormity of the undertaking. Yet we hope that with the help of Allah and the continuous support of generous donors, we can accomplish this goal by 2030, In shaa Allah.

Alhamdulillah, we collected approximately US$ 998,000 over the last two years from various crowdfunding campaigns, donations on this website, and local donations. However a portion of it had to be allotted for advertising costs, marketing consultancy fees, and payment processing fees. After deducting the above mentioned expenditures we were left with approximately US$ 793,000 as working capital for the project.
Over the last two years, we've granted scholarships to 788 students in 12 African countries. Below are the numbers of new students enrolled in each of the four semesters since the project was launched, as well as their countries and genders.